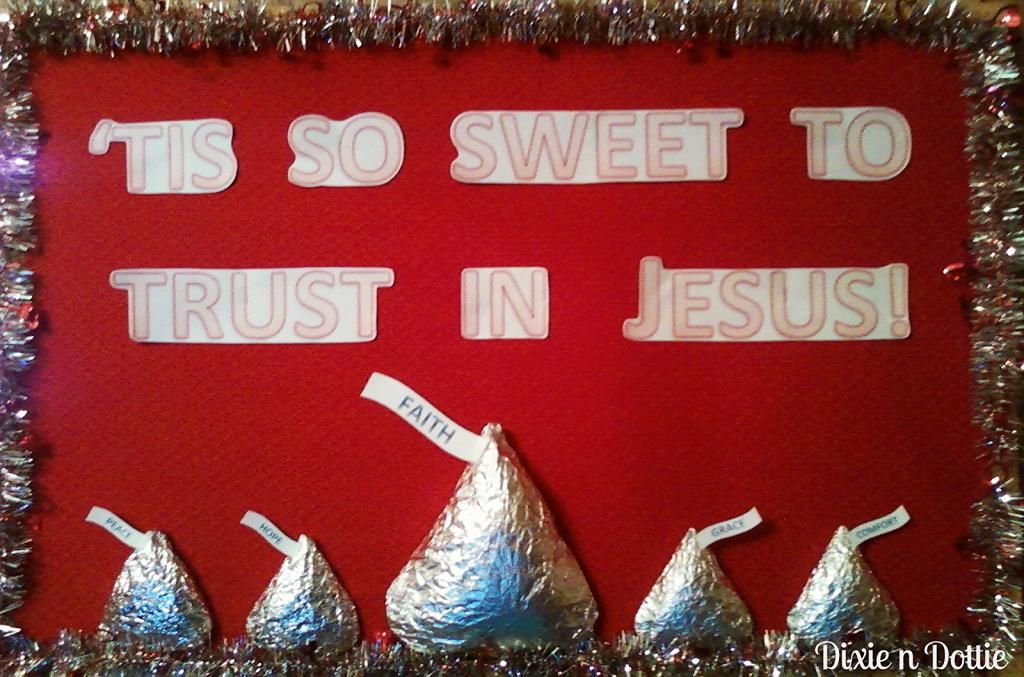 This is the bulletin board I put up for the end of January and obviously for February. It turned out a bit plainer than I envisioned it, but I still like it.

In case you can't read what the kisses say, from left to right "Peace", "Hope", "Faith", "Grace" and "Comfort". All of these things God gives us when we trust in Him and they are sweet!



Want to make the kisses?
Here's what you'll need:
Hershey kiss template
thin cardboard pieces
cotton
hot glue gun/glue sticks
aluminum foil
tape
Here's what you do.
Print a template. Like the one
here
. (I copy and pasted it. Then cropped and resized it on my computer.)
Trace on a thin piece of cardboard. Then cut out.
Apply hot glue (hot glue gun) on the cardboard and hurry and pad cotton on it.
Cover with aluminum foil. Tape in the back and there you go!
*The more wrinkled the aluminum foil, the more authentic it looks.
And there you go!
HAPPY WEEKEND!
SMILE, GOD LOVES YOU!!!!!!!!!!!!!!!!!!!!!!!!!!!!!!!!!!!!!!!!!!!!!!!!!!!