Hey y'all! Have a good week? G

e

t a lot of Christmas shopping done? We're getting there. Still have a little bit to go.
We have been enjoying checking out all of the great Christmas posts that have been linked here this week. Y'all are so talented! Keep it up! If you haven't been able to join us, please do! Link up your Christmas/winter posts and check out some of the great projects that have been shared here!
What have you enjoyed about your week? Is there something you're looking forward to this weekend?
SMILE, GOD LOVES YOU!!!!!!!!!!!!!!!!!!!!!!!!!!!!!!!!!!!!!!!!!!!!!!!!!!
5 FAVORITE THINGS THIS WEEK!
This is a party where you share your 5 favorite things from the past week. Sounds like fun, right? Join the fun!
"I simply remember my favorite things and then I don't feel, so bad!"
So, here are a few of my favorite things:
1. Decorating for Christmas! Dixie n I had a riot putting up our decorations, our Dad likened us to Stanley and Ollie. I'm not sure which one is which. :)
2. Playing Dutch Blitz and Rook with my family. Did I win? I plea the 5th! :)
3. Watching Christmas cartoons on ABC.
4. My new Christmas polka dot cup! I love these cups! I'm accident prone, so these come in very handy

!

:)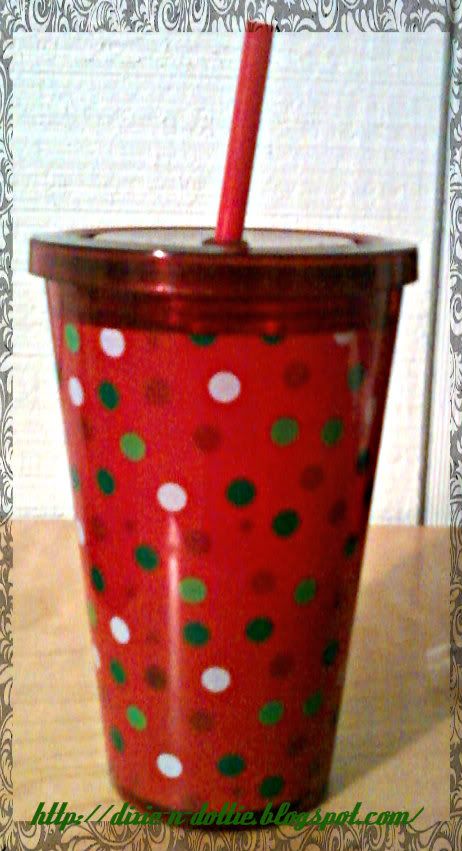 5. My new polka dot scarf!!!! Need I say more? :)