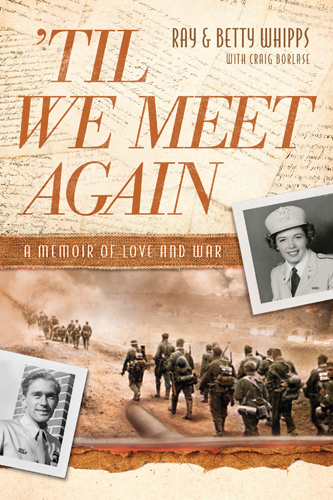 "'Til We Meet Again"
Ray & Betty Whipps with Craig Borlase
Ray and Betty Whipps both served in Europe during World War II: Ray as an infantryman under General Patton in the trenches of Normandy, Paris and Belgium: and Betty as a field nurse in Cherbourg, France. They met when Betty tended to Ray after he was injured during a fiery exchange between U.S. and German troops in the Hurtgen Forest. As Betty nursed Ray back to health, the two bonded over their shared faith and soon fell in love. Before he was released from the hospital, Ray proposed, and they vowed to marry after the war.
However, soon after Ray returned to his unit, he was captured by German forces and held captive in Stalag VII-A, Germany's largest, most notorious prisoner-of-war camp. It was there that Ray's faith was put the the ultimate test as he endured the most horrific weeks of his life - weeks marked by brutality, malnutrition, backbreaking labor, and near-constant death. The only thing that kept him alive was the dream of someday reuniting with Betty.
Told in first person from Ray's perspective, with personal wartime letters from Betty interspersed throughout. "'Til We Meet Again" is an epic love story of faith, hope, and resilience, set against the backdrop of one of the most extraordinary eras in world history.
*****************************************
What a beautiful, beautiful story. I absolutely loved this book. Ray's and Betty's story wasn't a bed of roses, and it for sure wasn't easy, but it was one that was filled with strength and love. Their strength and love helped them get through this horrible, tragic time and they drew their strength and love from God.
Only God could have allowed Ray and Betty to have such a miraculous story. One that we read about all the time in historical fiction and contemporary fiction books, but their story was definitely not fiction!
Ray Whipps has such a way with words that I felt like I was suffering with him! He gave you just enough detail to know what was going on and to create a picture, but not too much detail to where you couldn't stand the thought of the situations.
The letters that Betty had written during WWII and shared throughout the book were so neat and special. It was a darling treasure.
I thoroughly enjoyed this book and was sad when I came to the end.
Ray and Betty Whipps' story is one that will encourage you, challenge you and sweep you off your feet. It will also remind you that God has a plan and purpose for each and everyone of us and not even a world war can prevent it from being fulfilled!
I RECEIVED THIS COMPLIMENTARY BOOK FROM TYNDALE PUBLISHERS FOR REVIEW PURPOSES.