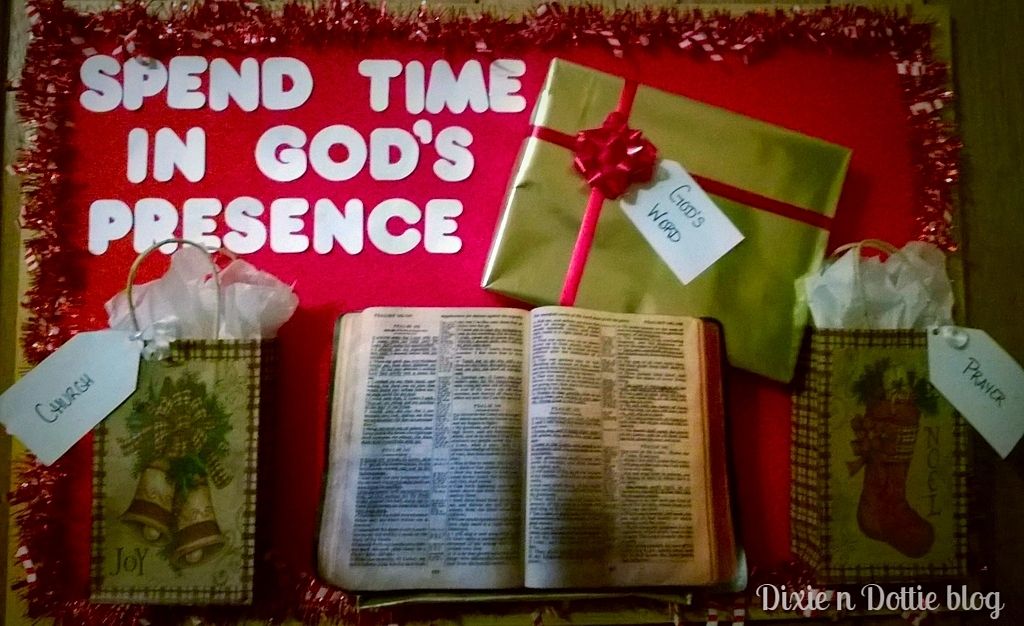 Hey y'all,
It's been a while huh? At least a while since I've posted something other than a book review. Sorry about that. Life just gets busy, you know?
Well even though it's a bit late, here is the bulletin board that I put up at Church for Christmas this year. I believe this is one of my favorite ones, if not my absolute favorite. It may look complicated and difficult, but it's actually pretty easy. The hardest part was finding a picture of the King James Bible, opened and at the right angle. It's a play on words, get it? "Spend time in God's presence (presents)"? You're smart, I know I didn't have to point that out to you! ;)
Here's what you need:
1. material (for background)
2. Christmas garland (for border - $ store)
3. small gift bags ($ store) and ribbon
4. Tissue paper
5. wrapped box (with bow and ribbon)
6. appropriate sized letters
7. card stock (for gift tags)
Want to know how to do it?
1. Make sure you have the right letters (something that always hinders me is not having the right amount or size of letters)
2. print a picture of the Bible. Yep, it's just a piece of paper.
3. wrap a box (for the Bible) place bow and ribbon the box (my sister actually made the bow, but you can buy a bow and it will work just as good)
4. make gift tags that say "Church", "God's Word", and "Prayer" (make sure they're facing the right way according to which direction you put them) and attach to the gift bags with ribbon
5. Add a red ribbon to the Bible for a bookmark. I actually did this after I took the picture.
Attaching to the bulletin board:
1. attach background
2. attach border
3. attach the box onto the board with thumbtacks (this is the most difficult of the whole board)
4. take the Bible picture onto the top of the opened box
5. place the box lid at an angle and to the side of the Bible, as if it you had just opened the package
3. attach gift bags with thumbtacks through the back of the bag only (not front, so to make sure you get the 3-D effect)
4. add the tissue paper into the gift bags
5. add your letters (the reason why I did this last instead of first is because I didn't know how much room I was going to have to work with)
While this is a Christmas bulletin board, you can adjust it and use any time of the year, since we should time in God's presence year 'round and not just at Christmas.
Hope you all enjoy and have a happy weekend!
SMILE, GOD LOVES YOU!!!!!!!!!!!!!!!!!!!!!!!!!!!!