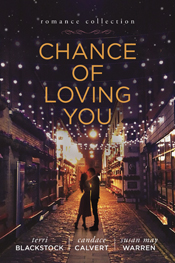 "A Chance Of Loving You"
Terri Blackstock
Candace Calvert
Susan May Warren
For Love of Money by Terri Blackstock Trying to launch her own design firm while waitressing on the side, Julie Sheffield was drawn to the kind man she waited on at the restaurant last night . . . until he stiffed her on the tip by leaving her half of a sweepstakes ticket.

The Recipe by Candace Calvert Hospital dietary assistant Aimee Curran is determined to win the Vegan Valentine Bake-Off to prove she's finally found her calling. But while caring for one of her patients―the elderly grandmother of a handsome CSI photographer―Aimee begins to question where she belongs.

Hook, Line & Sinker by Susan May Warren Grad student Abigail Cushman has agreed to enter the annual Deep Haven fishing contest. She's a quick learner, even if she doesn't know the difference between a bass and a trout. But nothing could prepare her for competing against the handsome charmer she's tried to forget since grief tore them apart.

One chance for each woman to change her life . . . but will love be the real prize?
**************************
For Love of Money review:
by Terri Blackstock
I had never read a Terri Blackstock romance before, just her mysteries. Apparently she's good at writing both! This was a fun and light-hearted story about two kind-hearted people.
Julie wasn't greedy and could care less about becoming a millionaire. Then she becomes one and doesn't like the kind of person it has turned her into.
Blake on the other hand can't wait to collect the millions, but won't do it without Julie.
Blake finds out that he's not so good at handling money and then thinks that he may have the right to Julie's. Obviously, this doesn't sit well with Julie so they part ways.
Do they get back together or has the love of money driven them apart for good?
The Recipe review:
by Candace Calvert
This was my first time reading Candace Calvert's work, but I hope it's not my last. I was drawn into this book from the beginning. The characters were so "alive" and "real" that I felt this was actually happening.
She wrote her characters with strong and caring personalities. Sure, they have their flaws, but they don't let that hold them back. They learn from them.
This book was my favorite of the three.

Hook Line and Sinker review:
by Susan May Warren
Susan May Warren has always been a favorite of mine, but for some reason, I wasn't able to get into this book right away. It kinda' felt like I was starting off in the middle of the story.
However, I did enjoy it once it got going.
The characters in this book had a problem with forgiveness and grudges, but they did learn how to deal with them.
All in all, this was an enjoyable read. If you like light-hearted, romantic, Christian fiction books then you will enjoy this collection.
Read more about the book
here
.
I RECEIVED THIS COMPLIMENTARY BOOK FOR FREE FROM TYNDALE FOR REVIEW PURPOSES.