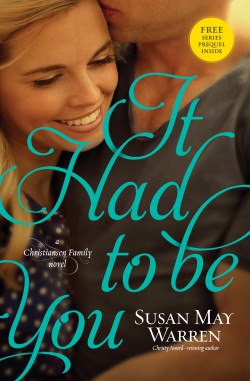 "It Had To Be You"
Susan May Warren
Eden Christiansen is a cheerleader.  Oh, not the cheerleader that does cartwheels, somersaults and hand stands, but the kind that let's her younger brother, Owen, know that she's his number fan and is there for him.  Of course she's enjoyed looking after her NHL rookie brother, even if he is reckless and seems to headed the wrong direction, but she never imagined that would be her whole life.  Since taking care of Owen is pretty much a full time job, she has little time to invest in her own career as a reporter.  
She needs help taking care of Owen and trying to keep him out of trouble.  The only one around, who might could possibly have some influence on him, is the team captain, Jace Jacobsen, which in Eden's mind is totally and completely out of the question.  
Jace seems to have the wrong kind of reputation and Eden doesn't let him forget it.   Still, he is the team captain and Owen's idol, but Eden doesn't think that Jace is responsible enough and has no problem letting him know that.  Jace is at a crossroads in his life, but not sure what direction to go.   Maybe he should be more responsible, like Eden says he should be. 
Jace and Eden can not get along, let alone work together, but may be forced to after Owen's carelessness could cost him his career.
**************************************************
I really enjoyed "It Had To Be You".  Even though it's the second book in the series, and I didn't get to read the first one, I still read this one without being totally confused.  Filled with romance, fun, suspense, drama and lessons about faith, this book is a keeper!  Susan May Warren tugs on all of your emotions through this book!   I definitely can't wait to read the rest of the series!  Also included in this book is a prequel that tells how it all started!  (That was really good too!)    
I RECEIVED THIS COMPLIMENTARY BOOK FROM TYNDALE PUBLISHERS FOR REVIEW PURPOSES.