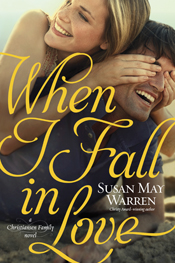 "When I Fall In Love"
Susan May Warren
Grace loves to cook and dreams of opening her own catering business, only she didn't get in to culinary school. Grace has always been a homebody and is content at staying at home and working at the local pizza place. After she caters her older brother's, Darek, wedding, her family surprises her with a trip of a lifetime to Hawaii! It's not just a vacation though, it's a three week cooking course. Eden wants her to cater her wedding Hawaiian style so Grace doesn't see a way out of going to Hawaii.
Max, a pro hockey player, has enjoyed attending the Hawaiian cooking school for the past three years. It's the only vacation he gets and he thoroughly enjoys it. He has especially been looking forward to this year because he needs to get away. He has been struggling with what the future holds for him and is always afraid of letting people get close because of it.
Jace, Eden's fiance, has asked Max to "babysit" Grace. Max is not too keen on the idea, rather hates it, but feels he owes Grace's brother, Owen.

Grace has always said that she will only give away her heart once and for a lifetime. She finds her one and only, but she doesn't know if he will accept her love.


Meanwhile, Raina, a girl who works with Grace, is getting to know the Christiansen family, especially the men. At first she thinks they're all Class A jerks, until she meets Casper. They soon find themselves working together and enjoying it. Then all of a sudden Raina withdraws herself and Casper can't figure out why.
*******************************************************
This is the third book in the Christiansen family series and I hope they keep coming! Although Grace is the main character of this book, she is not overpowered by all of the characters. Every character was so ingeniously and creatively incorporated.
In Grace and Max's story they learn to forgive, have faith, trust God and to reach out.
I really enjoyed this book. There were some things I didn't agree with but it was still a good read. I didn't want to put it down and was sad when it ended. I can't wait for the next one! Please hurry! :)
Read more about the book
here
.
I RECEIVED THIS COMPLIMENTARY BOOK FROM TYNDALE PUBLISHERS FOR REVIEW PURPOSES.