Hey y'all,
Here are the last of our Valentine decorations. Yes, we know it's about a week late, but really you can use some of these decorations year around if you want.
With all of the fun and games that usually go on at Valentine parties, we wanted to make sure that our kids (at Church) know that there is Someone Who will always love them, no matter what! So, at Church we used Valentine's Day to "celebrate" God's love, that He so richly bestows on us. I printed Bible verses that talked about God's love and a few verses of how we are to love each other. I then put these verses on the wall, as you will see in pictures below, and used some 4" letters to say "God is love".
We should never get over how much God loves us. We don't deserve His love, yet He still loves us. The best part to me is, that NOTHING can EVER separate us from God's love.
Romans

8:38&39

"

For I am persuaded, that neither death, nor life, nor angels, nor principalities, nor powers, nor things present, nor things to come,
Nor height, nor depth, nor any other creature, shall be able to separate us from the love of God, which is in Christ Jesus our Lord."
His love is everlasting. He always has loved us and always will! There is nothing that we can do or satan or anyone can do, to take away God's wonderful love! It's almost impossible to comprehend, but we don't have to comprehend it. Just accept it! Just like we accept Jesus Christ as our Saviour!
God loves you just as much as He loves us! There are no favorites with God! Even if you may think that you are a horrible person, or don't think that God could ever love you; He does! You are precious to Him! Why else do you think He put the stars in the sky; the birds to fill the air with their beautiful melodies; the warm rays of sunshine that beat down on your face......? BECAUSE HE LOVES YOU!!!!!!!!!
The reason we post "Smile, God loves you" at the end of every post is because, His love should make you smile! When you're having a really rough day and you feel like "Grumpy McGrumperton", stop and think of how God loves you! That, for sure, should make you smile! =)
We hope that you take the time today to just reflect on how much God loves YOU!
May He bless each of you and show you in an extra special way today that He loves you!
SMILE, GOD LOVES YOU!!!!!!!!!!!!!!!!!!!!!!!!!!!!!!!!!!!!!!!!!!!!!!!!!!!!!!!!!!!!!!!!!!!!!!!! :)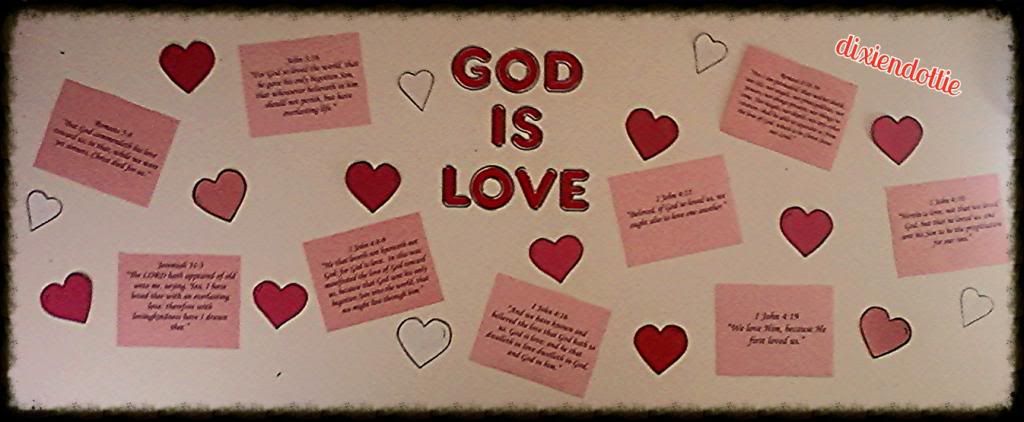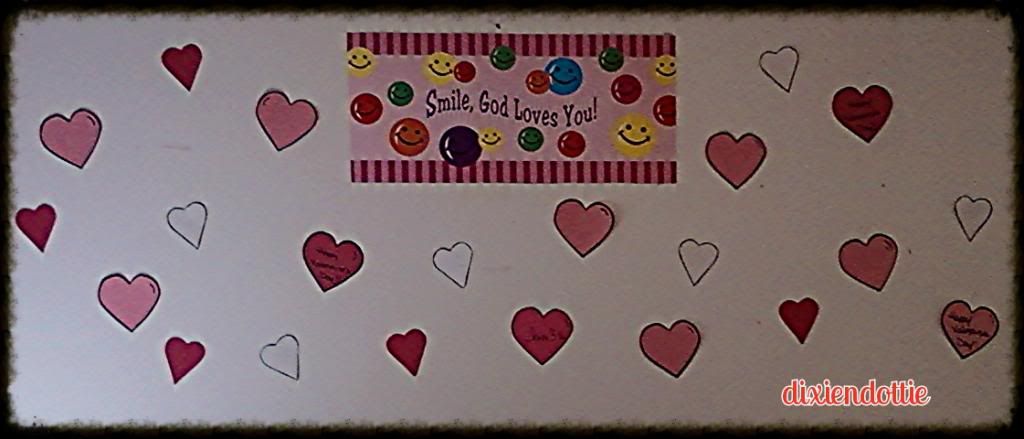 Here is a closeup of the decorations down the middle of the table. I used red and silver tinsel, red rose petals and red, purple and pink hearts cut out of construction paper.

Decorations on the top shelf of my desk at Church.