H

ey y'all!
Getting stressed out because Thanksgiving is like, here? Make sure you take some time for yourself and don't overdo it! Take time to STOP and smell the coffee, or whatever

scent you like that makes you happy! :)
We weren't bloggin

g last year at this time so we weren't able to share this with y'all. So we're going to share it with you this year!
OUR PARENT'S 25th

ANNIVERSARY PARTY
Last year was o

ur parents

25th

anniversary

.

We "kids" planned a SURPRISE PARTY for them. We invited all of our family over and had a buffet style meal. Boy howdy was it good! I'm pretty sure I ate too much! But, it was so worth it! (In my family, you can't have a get together without food! Do y'all do that too? O

r is it

just be a southern thing.
)
How did we get our parents out of the house you ask? Let me tell you, it wasn't easy. Fortunately, they decided to cooperate, that and they may have been on to us. I think it was the excessive amount of food we bought that gave it away. If they did know, they still acted surprised.
We had a blast! Everything looked plum perty, if I do say so myself, and I do :). The food was delicious, the company was great, but most importantly my parents were in the "spotlight". Which is something very rare, yet deserved. My parents are the kind of people who don't do things to get recognition or praise. They just get things done and most of the time, go unnoticed. So, we wanted to let them know how much we love them and wanted to honor them because of who they are and what they have done for us.
Here are few pictures of their special night!
This is a replica of my parents wedding day cake. Our Mother made her own wedding cake! Pretty amazing, huh? Not very many brides do that. Their cake was a bit bigger, but Dixie did what she could and it looks exactly like their wedding cake. (only smaller) The couple on top of the cake, (I forget what you call it.) is the same one that was on

our

parents cake. Dixie dyed the flowers herself. She was very clever in how she did this! O

ur

parents loved it. Especially

our

Mother!
Looks like we were going to have a

seance

doesn't it? Well, we didn't. This is the display table we had about our parents. The big book is their wedding album. Behind the big white candle is a picture of

our

parents on their wedding day. The wooden box is holding some of the rose petals that

our

Mother has saved from our Dad throughout the years. In the big silver frames is a list of "25 Things I Love About You". I had my parents make a list of things they love about each other. (I tried to make this a surprise for them, but I'm sure they knew I was having both of them make a list.) When I asked my Dad to make his list, his response was "Only 25?" Now isn't that sweet? Later that night, they read their lists to each other. :)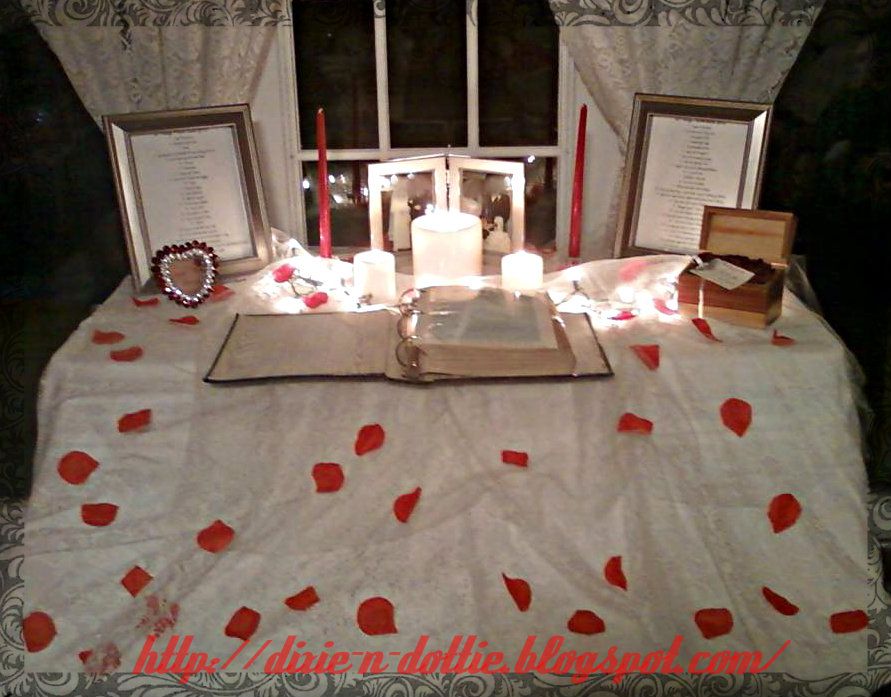 Our Dad's list to our Mother and her rose petals

.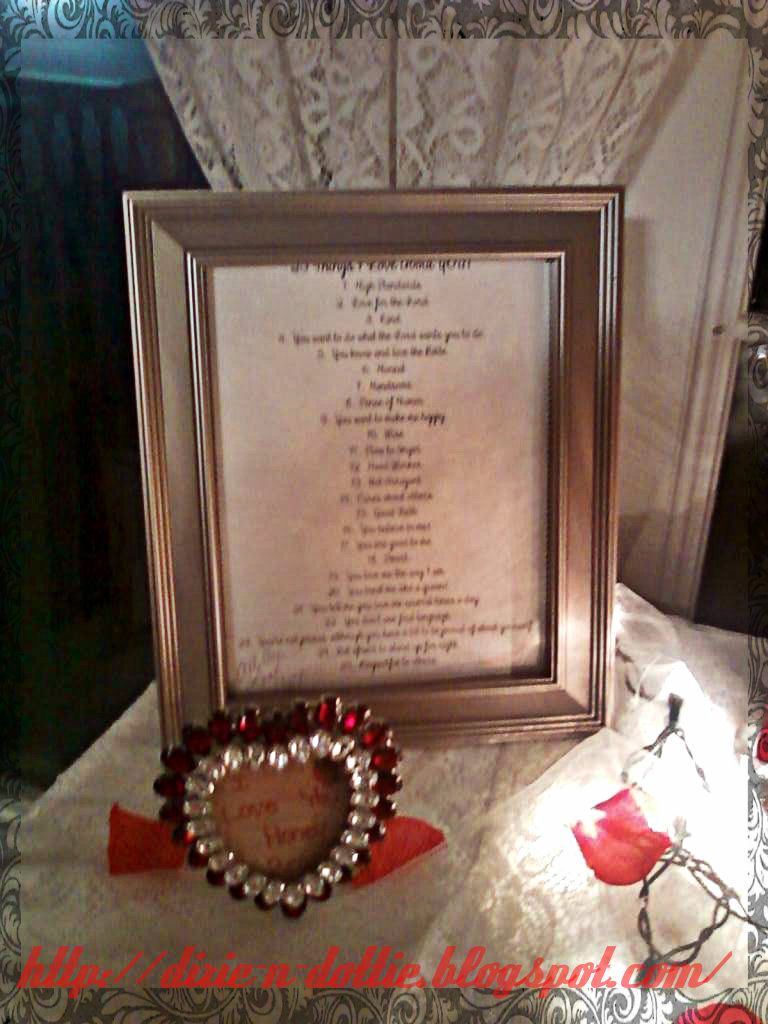 Our Mother's list to our Dad. In the heart frame is a picture of a cake she made for him years ago, with his nickname on it.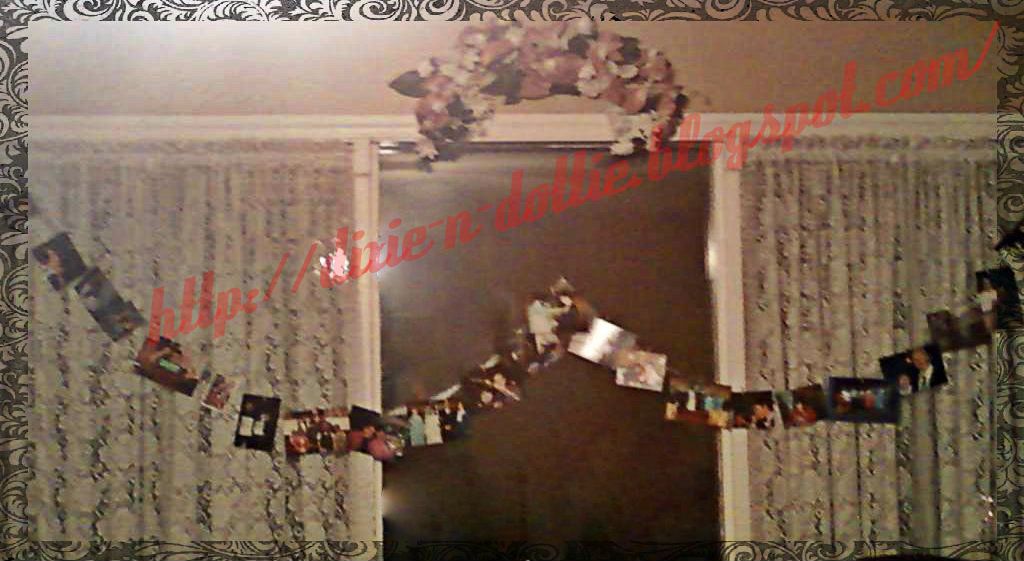 We

also

had a "clothesline" of family pictures throughout the years, draped over our living room windows.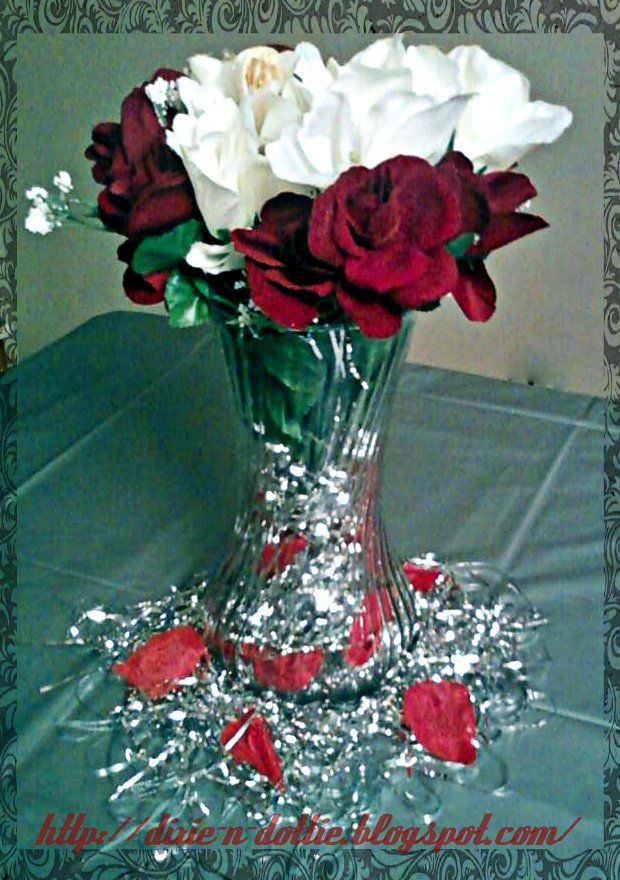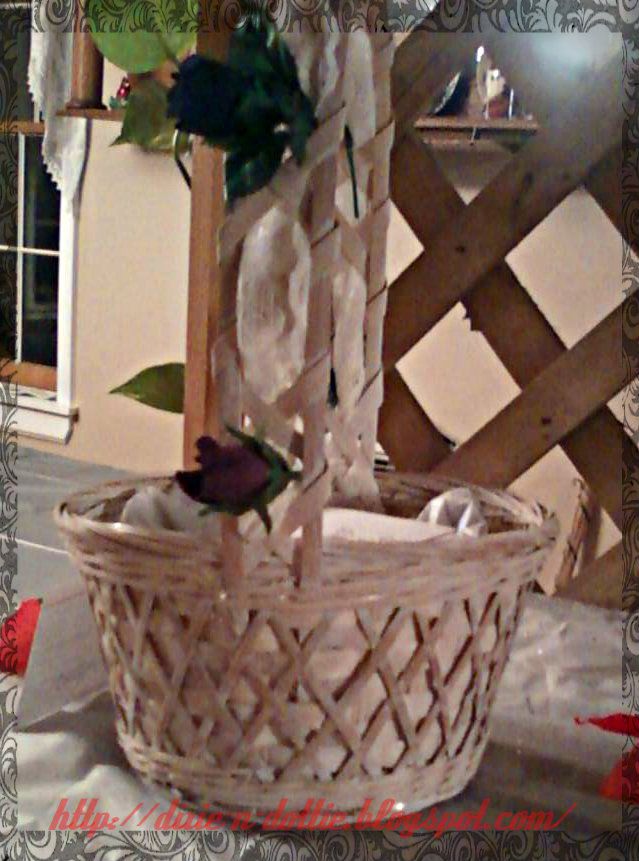 Each guest wrote out their favorite memory of our parents and placed it in this basket for them to read later.