Can you believe it's almost Halloween? Wow! This year is sure going by fast. We're counting down the days 'till Christmas! Cannot wait!
Here is a Halloween Trick or Treat craft that is great for a gift! You can even alternate it and use it for whatever holiday you like!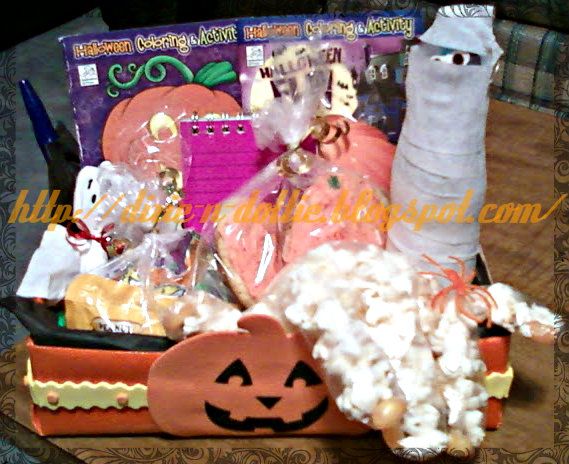 paper (to wrap the outside)
decorations for the outside
tissue paper (to line the bottom)
1. Wrap the outside with paper. (I used orange wrapping paper.)
2. Decorate the outside. (I cut up pieces of foam with crazy scissors. Then I added orange foam sticker dots. I glued the jack-o-lantern on the front.)
3. Line the bottom with tissue paper then fill with goodies.
4. The "hand" is just a plastic glove filled with popcorn and jellybeans for the fingernails. You could use candy corns.
5. The "mummy" is a "Mondo" juice bottle wrapped with white streamer, for the eyes I used white construction paper for the outside layer of black, then white paper and for the eyeballs I colored orange dots black. (the same ones I used on the outside of the box.) You could use googly eyes.
6. The "ghost" is just a tootsie roll pop with a tissue over it and a ribbon tied around it. I used a black marker for the eyes.
7. The pumpkin cookies are just homemade sugar cookies; we died the frosting orange.
8. The rest is just a bag of candy, coloring books, notepad and pen.